Click any image banner to lead you to the main category for slot cars!! These images are only examples of what you can find here from time to time!! These slot car tracks sell out too fast to show any item for a long time!!

Racing Car Track Set 2 Slot Cars Controllers Loops Turns Racecar Play Fast Game

The product USES high-quality ABS materials
Orbital Circumference: 438.58 Inch
The Product Is Equipped With 1:64 Cars * 2 And Speed Controls * 2
EXCITING TWO-PLAYER AND GROUP ACTIVITY - family and friends will all enjoy the fast-paced head-to-head driving action - race to win and then do it again! EXPAND YOUR RACING OPTIONS FOR HOURS OF FUN - use track expansion sets, accessories, and a wide selection of additional cars to create challenging new races!
Scalextric C1404 ARC PRO 24h LeMans Set 1/32 Slot Car / Track Set

ARC PRO takes racing to the ultimate level with multi car racing up to 6 cars, lane changing, separate pit lane stop, KERS as well as variable weather conditions, tyre wear, fuel usage, brakes and post-race statistics.

Ginetta were a new manufacturer to the LMP rules in 2018 and for 2019 we see them taking to the Scalextric track for the first time also in this superb value ARC Pro two car set. The low and sleek Ginettas are fantastic additions and with the lights and ARC software you can race right through the night!Contents:x1 ARC PRO Powerbase
x2 ARC AIR/PRO Wireless Hand Controller
x6 Colored Lanyards
x1 Smart Device Cradle
x2 Ginetta
x1 Straight lane change track
Track (532cm)
Power supply 15V - 4A
The Powerbase can work with a single power supply but it is strongly recommended to use 2 to race with 4 cars or more.Tech Specs:Supplied with a EU transformer
Space Required : 210 x 140cm
Track Length : 532cm
Scale : 1:32
Age Suitability : 8+KEY FEATURES7 Track Layout
Brakes
Wireless Rumble Controllers
Fuel Usage
Kers
Lanes Changing
Lap Counter
Light Start
Multi Car Racing
Pit Stop
Post-Race Statistics
Tyre Wear
Variable Weather Conditions

Here is a big boy toy. 78 Feet of Scalextric Digital Race System. This is 1/32 scale and the cars are lighting fast. This system will run either Digital Racing "Allows you to switch lanes" Up to 6 racers or Analog "2 Racers" without lane switching. This set encompasses not only the race system but all the 1/32 goodies. People, Trucks, Cycles, and home built building and garages. It's a professional slot car setup and you can have it in your home at far less than half the prices of a new system of this caliber. This setup also has the power extension tracks so your system has constant power and the cars don't get weak in parts of the track. over 15 cars both digital and analog and drifting tracks to match corners both inside and outside. Guard rails, and automotive signage. Getting out of the hobby and selling the whole setup. Attached are pictures. Send questions if you have any. This is an excellent setup and easily will require 8 foot by 8 foot to setup a two tier track or at least 12X8 flat.

So much stuff I will take 3 boxes to ship.

14 cones
11 1/32 motorcycles
2 1/32 Toy Hauler 18 Wheelers
20 Race Cards "some with Digital"
27 Normal Guard Rails
6 Bamers
32 Drift Curves

Gas Signs and decals
hand made Garages and buildings

Tracks:
2 Digital Switch Tracks
3 Small Straights
2 Medium Straights
2 Power Extension Tracks
2 Crash Tracks
30 Large Straights
12 Small Corners
22 Large Curves
6 Controllers
1 Digital Power Centers with Lap Counters

Everything you need to setup the dream Scalextric race track.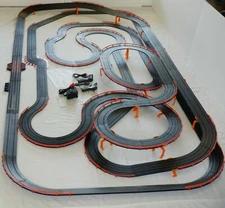 220 FT DIGITAL SCALEXTRIC SLOT CAR TRACK AND 322 SLOT CARS.
ARC PRO AND DIGITAL POWER BASES
COMES WITH EVERYTHING, TABLE, LAPTOP TELEVISION, SCORING PROGRAMS, ALL CONTROLLERS, DISPLAY CASES.

US $10,000.00


Racing Car Track Set 2 Slot Cars Controllers Loops Turns Racecar Play Fast Game

Racing Track Set w/ Loops Electric Slot Cars Race Stunt Loop 2 Controllers Kids

Electric Power Stunt Loop Road Racing Set, includes 2 Ford Mustang Racers with Headlight and Magnetic Base. 2 Speed Controllers, Approved Adaptor. All the track you could need Power intake Track, Lap counter track, Curve and Straight Track, Single Lane Straight Track, Crossover Track, 'S' Shape Track, Squeezed Tracks, Convex and Concave track, Single Lane Loop Track, Guard Rails

Race track set
Ages 8 and Up
Magnetic Base and Lighted Vehicles
Set includes: Includes Track, Controllers, Cars, and Instructions

#divSKUDetail2
If any of the track sets shown here are sold out-search the index
at the site that the link leads to for slot car track sets
these track sets sell out pretty fast at times

Large 53.1' AFX Tomy Super G Plus Giant Raceway Race Track Complete Slot Car Set

A large custom 53.1' AFX Tomy complete ready to run track set. This set has 2 Brand New Johnny Lightning Viper bodies with near mint AFX Tomy Super G-Plus chassis.
This set is over 13' bigger than the Big Block Battlers set.
This set has a Lap Counter, Banked Corners, Squeeze track, Brand New High Performance 22v power pack & Brand New Controllers.
As set up in the pictures this set uses an area of 8' x 4' (96" x 48").
Both Super G-Plus chassis are clean & strong fast running with Brand New pick up shoes & perfect tires.
I personally cleaned each piece of track prior to assembly. Every piece of track is in perfect clean condition with NO broken tabs.
All of the guardrails are Brand New fresh out of the package, No broken tabs.
I tested both cars on this track & ran each car 25+ laps on each side & everything works perfect.
I built this track with my imagination & other track plans & have drawn a detailed assembly sheet. Also included is an original AFX owners manual & unused cardboard grandstands & pits buildings.
This track is 100% ready to go & all you have to do is build it & have fun!
I have several slot cars listed so be sure to take a look.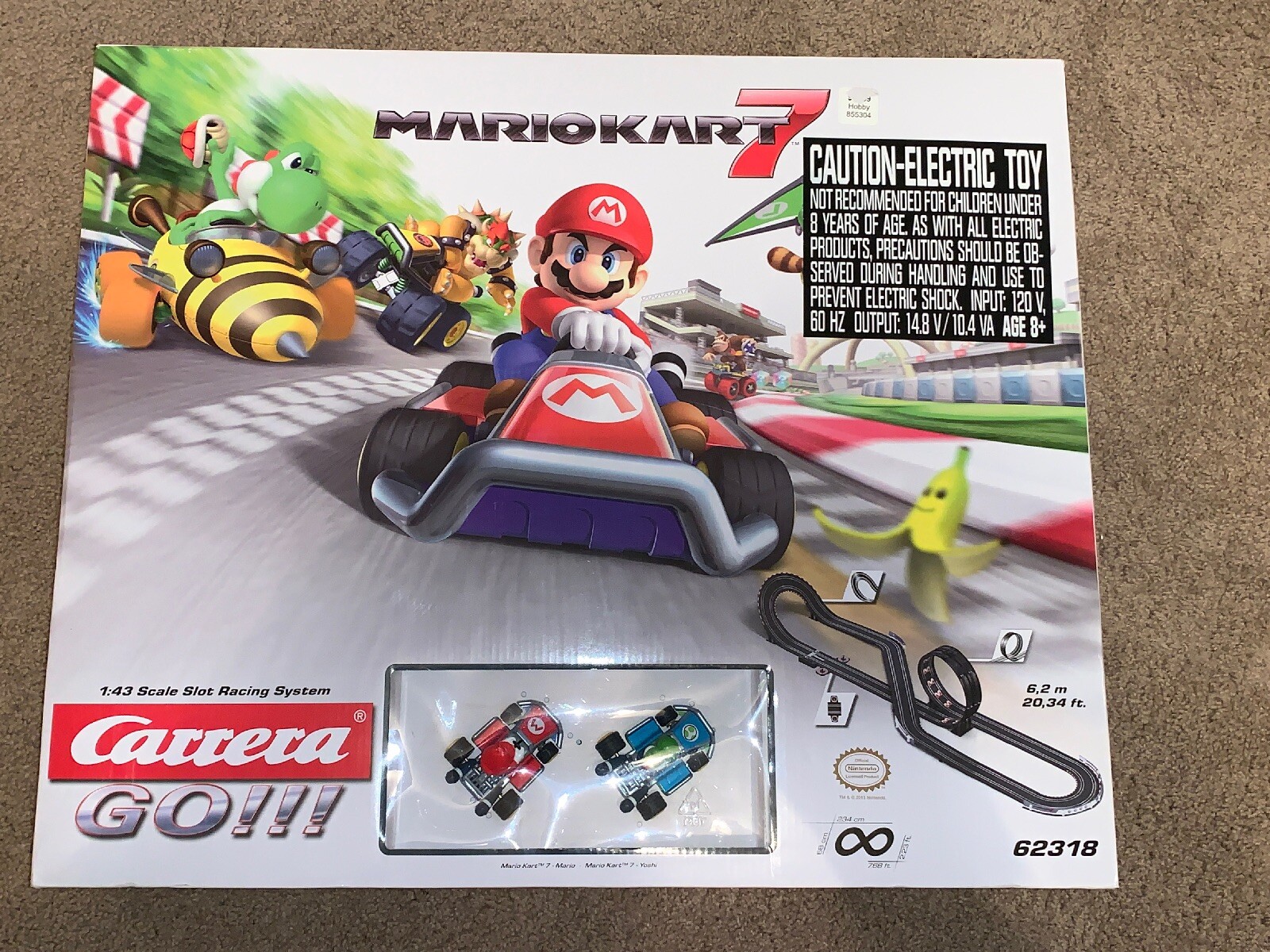 CARRERA Go! Mario Kart 7 Slot Car Track Set 62318 1:43 scale Nintendo



Carrera 124 And 132 Scale Digital Slot Car Track

Carrera 124 And 132 Scale Digital Slot Car Track. Condition is Used. Over 60 ft of track plus a box of extra trac not shown. 6 digital cars 5 with lights. All cars digital 50 $ each new


Rolly Toys Giant Chess Set 25in.
Classic Ship Models-RC Ship Models-

ready to run ship models and

classic sailing ship display museum quality models-delivered
party chips and party dips delivered by the case-fritos corn chips-lays and ruffles potato chips-doritos tortilla chips-and a great selection of all kinds of flavored bean dips and slasa dips-hot and mild-all delivered by the case!!